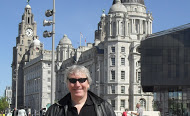 Many Radio City fans will remember Howard Hughes working in the news room at Stanley street and his return to City talk in the tower. I asked Howard how did he get the radio bug and he said:
"I knew I wanted to be on radio when I was at a secondary mod. school in Crosby - I worked as hard as I could to realise the ambition. The teachers there thought I was mad - but when the school became a Comprehensive I got a lot of support. I made my first demo tapes on a Prinz £29 cassette recorder bought at Dixons in Bootle - using Scotch and BASF cassettes.
Radio City made it all possible - I won a DJ contest on the Scully show as a schoolboy (I have a recording somewhere) and much later became City's first ever News Trainee on a special scheme that included a place on a top journalism course. Since then I've worked everywhere - including IRN and 10 years on air with Chris Tarrant at Capital FM. I've even done voiceovers on big tv shows - including eight years doing live commentary on ITV's British Comedy Awards.
I never forgot what I owe City and was delighted to return years later to fill in for Pete Price and work on the new CityTalk. "The Tower" is my favourite radio location - a place I am always made to feel at home.
The recent death of my dear Dad was my last link with Liverpool - but the city is forever in my heart...."
Thanks Howard.
Here is some audio that Howard sent me, they include:
Howard on the phone to Norman Thomas on the first day of broadcast (21st October 1974)
Howard Hughes and Rob McGloughlin